Programming Weather Alarms
Using the Professional Weather Center: Programming Weather Alarms
Before you begin
Place the display unit in a dry area free of dirt and dust.

To ensure accurate temperature measurement, place out of direct sunlight and away from heat sources or vents.

Display unit stands upright for tabletop use or is wall-mountable.

Learning Mode

is off.
The

Self-Calibrating Forecasting

uses a unique algorithm to analyze changes in pressure over a time period (called Learning Mode ) to determine your altitude.
Minimum 1 person
Technician, electrician, engineer.
High school
30 minutes
Professional Weather Center model 01036 / 351543
Instruction Manual for model 01036 / 351543
Power Adapter
6 batteries AA
USB Cable for PC Connection
3 batteries AA
DANGER

Maximum allowed wind force is 6 Beaufort when working in the tower. (measured 10 meters above ground)
Gale wind force must be lower than 70 km/ hour.
About this task
Each Selectable Weather Category features an alarm option. When an alarm sounds, the display unit emits audible beeping and flashes the affected category, its alarm settings, and any other relevant data. Some alarms can be customized to alert you when your programmed value is reached. Alarms include: outdoor temperature, outdoor humidity, wind speed, heat index, dew point, wind chill, indoor temperature and indoor humidity. The rain alarm does not require a preset numerical value, but instead sounds as soon as rain is recorded. Similarly, the storm alarm sounds when a large atmospheric pressure drop occurs, which usually indicates an oncoming storm. Note: The storm alarm is NOT intended to be a safety device or warning system.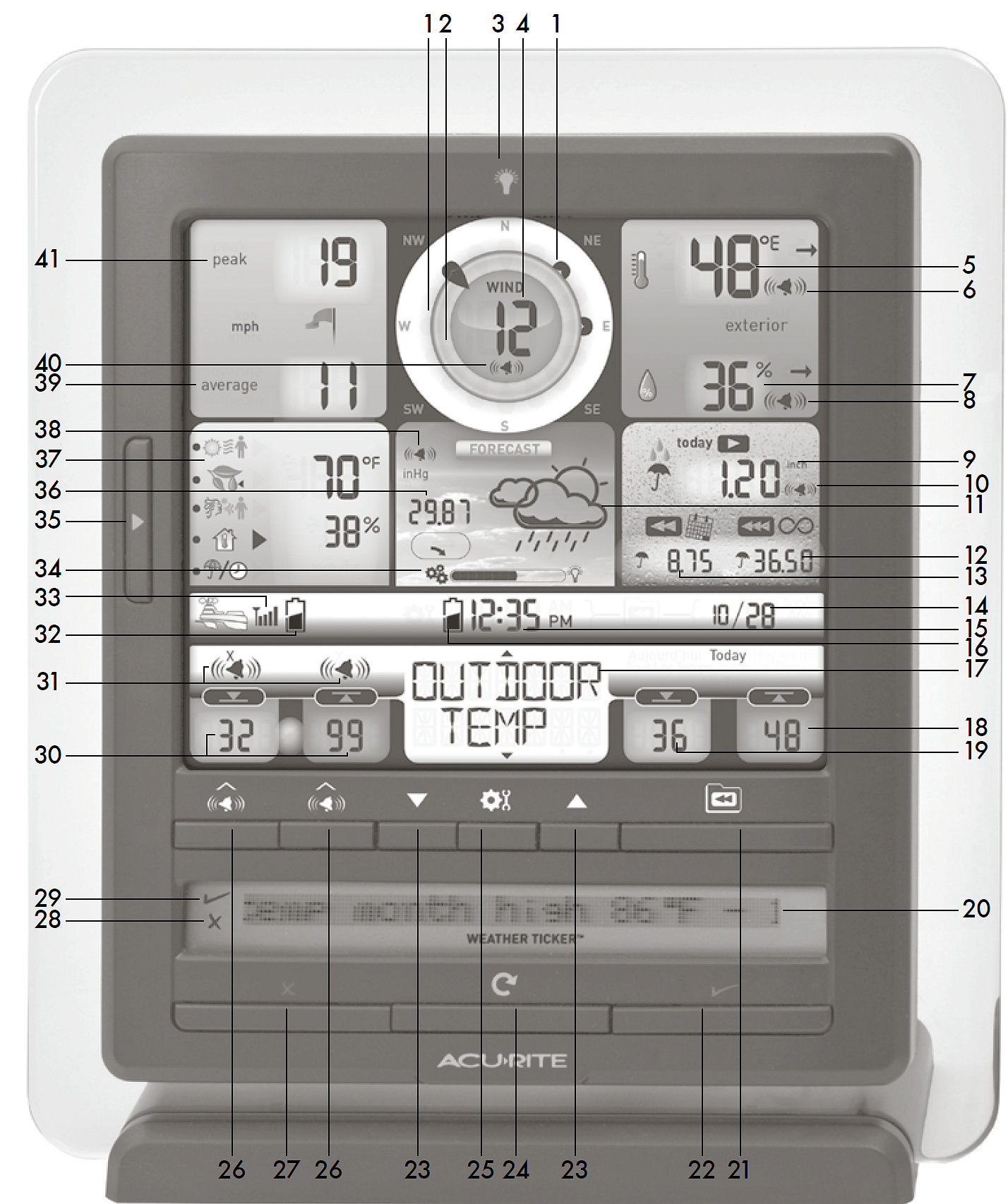 Procedure
After tuning for 14 days, the

Learning Mode icon

disappears from the display screen. At this point, the self-calibrated pressure is tuned in to your location and the unit is ready for superior weather prediction.
Programming Weather Alarms.
Choose the weather category for which you wish to set an alarm by pressing the up or down arrow buttons until the category is displayed on the Selectable Category part of the display unit.

To program a value (only applies to alarms that require a value), press AND HOLD the " " button underneath the alarm you wish to set until the " " indicator appears and the alarm setting flashes.

Adjust the alarm value by pressing the up or down arrow buttons.

Press the " "button to confirm a value.
Next, press the " "button to activate the alarm

the X indicator disappears when alarm is activated

Alarm is now programmed and turned on.
Silencing a Sounding Alarm
The alarm sounds initially for a few minutes, then silences itself.

The alarm then sounds every few minutes afterwards until one of the following happens:

"SNOOZE" - Press any button.
Turn alarm "OFF"

Deactivates alarm.

Alarm silences, but sounds again if the

alarm condition(s) reoccurs

.

Are there no longer alarm signals sounding or displaying?

The setup of the Weather station is now completed!
Setting up Display Unit & 5-in-1 Sensor
Setup of Display Unit & 5-in-1 Sensor can be done beforehand.
About this task
Display and sensor have to be connected, and a switch must be correctly set.
Procedure
5-in-1 Sensor Setup
Set the A-B-C Switch of the sensor. It can be set to A, B or C.
Display Unit Setup
Set the A-B-C Switch of Display Unit.

Sensor and display are connected.

The A-B-C switch is located inside the battery compartment. It can be set to A, B or C. However, you must select the same letter choices for both the sensor and the display unit in order for the units to synchronize.

Plug Power Adapter into Electric Outlet.

Write Down the MAC ADDRESS: 12 digit unique ID needed for online connectivity functions.

Install or Replace Backup Batteries (optional) Insert 6 x AA alkaline batteries into the battery compartment, as shown. Follow the polarity (+/-) diagram in the battery compartment.

Sensor and display have been setup.